Join MA student Hanna Paul for the next Starting a Conversation
Wednesday, Jan. 25
12:00 to 1:00 pm
Arts 368 | Zoom
Abstract: My MA thesis centers Métis women and youth of the North Vermilion Settlement (Buttertown), Alberta and their embodied experiences with moon time (menstruation) in relation to body confidence. My aunties expressed that we must share our stories to combat the colonial master narrative in the region. The Métis method of Visiting fostered my research and reconnection journey back to my community. My methodology is best captured by the process of Saskatoon berry picking that draws from my lived experiences while in community. Through thematic data analysis of semi-structured interviews, I captured core findings that focus on confidence building of youth of future generations.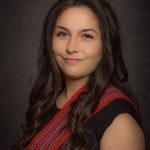 Bio: Hanna is a Michif (Métis) cisgender woman. Her Métis family names are Paul, Lizotte, Lambert, and LaFleur. She is a second year IGS Master's student under the supervision of Dr. Gabrielle Legault and Dr. Fiona McDonald. Hanna is in the CESCE theme and currently writing her thesis.
Everyone is welcome!
This will be a hybrid event. If you're joining via Zoom, please e-mail: icer.ok@ubc.ca for the link.