Research Projects
Most of these projects involve training of graduate student researchers at UBCO, as well as community researchers located in the communities affected by the research projects. Researchers at the ICER are committed to participatory and inclusive forms of research.
ICER researchers are or have been involved in the research projects listed below. Please click on the links below for more information and to view associated videos and or reports.
This project was initiated in 2017 when the City of Kelowna initiated a conversation with Dr. Jeannette Armstrong,the En'owkin Centre, and Institute for Community Engaged Research about looking at ways to respond to the Calls for Action recommended by the Truth and Reconciliation Commission.
This symposium was held on February 17-19, 2017 in Kelowna and Penticton. The symposium brought together communities, institutions, and traditional knowledge holders and scholars to address the current situation by sharing innovations in programming and approaches currently underway.
Keynote speaker: Dr. Jeannette Armstrong, The University of British Columbia, Community, Culture and Global Studies
Moving Forward on Language Fluency: Reconciliation and Implementing Indigenous Rights to Language.
Keynote speaker: Onkwawenna Kentyohkwa – Brian Maracle
The Root-Word Method: How the Mohawks are creating fluent adult speakers

Keynote speaker: Daryl Baldwin – Miami University, Myaamia Center
toopeeliyankwi, kati myaamiaataweeyankwi: WE SUCCEED AT SPEAKING THE MYAAMIA LANGUAGE

Speakers: Deanna Nyce & Irene Squires
Fix

Speaker: Jesse Fairley
Language Fluency and BC's Aboriginal Post-Secondary Education and Training Policy Framework and Action Plan
Cultural Safety Symposium May 2015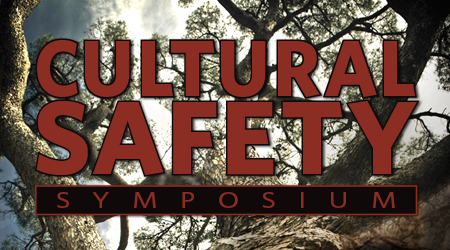 Keynote speaker: Dr. Jeannette Armstrong, Canada Research Chair in Okanagan Indigenous Knowledge and Philosophy, UBC Okanagan
Enowkinwixw:
NB Dr. Armstrong's presentation begins at the 11:14 mark.
Keynote speakers: Dr. Mike Evans and Dr. Rachelle Hole, UBC Okanagan
Why bother with Cultural Safety?: Lessons from the "Barriers Project" and beyond:
Keynote Speaker: Dr. Cheryl Ward
Okanagan Approaches to Cultural Safety: Promoting Well-Being for All
Keynote Speakers: Dr. Donna Kurtz, UBC Okanagan School of Nursing; Eric Mitchell, Chris Marchand, Okanagan Indian Band Knowledge Keepers; Jessie Nyberg, Shuswap Elder and HELP's Aboriginal Steering Committee Elder
UBC CS Modules 
Keynote speaker: Dr. Evan Adams, Chief Medical Officer
One Perspective on Two-eyed Seeing:
Immigration Symposium 2015 – Friday Evening
We are pleased to provide a video of Dr. Jeannette Armstrong's Keynote talk: Immigration in the Okanagan: A Syilx Perspective:
Friday night also featured a performance by Peter Morin and Ayumi Goto: Land Moving.
Immigration Symposium 2015 – Saturday Sold Out
We are pleased to provide the presentation by the Keynote speaker Sandra Hakanson http://www.pushormitchell.com/lawyer/sandra-hakanson/): New Rules, New Challenges: Legal Frameworks for Working with Immigrants and Citizenship and Immigration Canada below:
"Auditing the Academy"
University of Akureyri, Iceland Rannsóknasjóður Háskólans á Akureyri, University of Akureyri, Iceland. $4,696.32 / 500,000.00 Icelandic Króna
Co-PIs: Edward Huijbens and Lawrence Berg
2014 – Ongoing
"Diversifying health human resources: Exploring the experiences of practitioners with disabilities in the health professions"
Canadian Institute of Health Research ($200,000.00)
Co-investigator: R. Hole
2014-2017
"Moving speakers forward with fluency: A chain of language immersion"
Aboriginal Languages Initiative (FPCC) ($29,320.00)
PIs:Splatsin Tsm7aksaltn (Enderby, BC)
CoI: Christine Schreyer
2014-2015
"Avoiding unnecessary transitions: Determinants and critical points in decision-making around transferring a nursing home resident to the Emergency Department"
Network of Excellence in Seniors Health and Wellness ($200, 000)
CoI: Colin Reid
2014-2016
"The Development of a Screening Tool for Caregiver Burden in Home Care"
Alzheimer Society of Canada ($150, 000)
CoI: Colin Reid
2014-2016
"Development and testing of a standardized communication form to improve transitions for nursing home residents"
Technology Advancement in the Elderly Network ($89, 597)
CoI:  Colin Reid
2014-2015
"HealtheSteps Canadian Diabetes Strategy Research Project"
Public Health Authority of Canada ($7200)
Project administrator at UBC: Gareth Jones
2014-2015
"How the Geospatial Web 2.0 is Reshaping Government-Citizen Interactions"
Social Sciences and Humanities Research Council: Partnership Grant ($2,552,984.00)
PI: Jon Corbett  (and 10 others)
CoIs: Mike Evans, Stephen Foster and several others
2013-2018
"Creating an Interdisciplinary Disability and Inclusion Research Collaborative: Mapping UBCO's Critical Disabilities and Inclusion Research Commitments and Activities."
UBC Okanagan Internal Interdisciplinary Grant ($14,750.00)
PI: L. Schnellert
CoI: R. Hole, P. Richardson, L. Berg, R. Lee
2013
"Urban Sustainability Forum"
University of British Columbia, Office of the Provost UBC Invited International Distinguished Visitor's Fund $5,000.00 (over one year), plus $4000.00 in supporting funding from CCGS, Unit 6, the Okanagan Sustainability Institute and the City of Kelowna.
PI: Lawrence Berg
2013
"Knowledge to Action – Like a Ship that's always righting itself: self-management of bipolar disorder, from evidence to action."
Canadian Institutes of Health Research $200,000.00
CoI: Rachelle Hole
2013-2015
"Digital Pathways to a Continuum of Aboriginal Engagement; Developing a Community of Practice and Student Pathways to Higher Education through Language and Culture Revitalisation"
Higher Education Participation and Partnership Program ($96,256.00Cdn /$99500AUS )
PI: Mike Evans (PI)
2013
"UAKN Prince George Protocol Development Proposal"
Urban Aboriginal Knowledge Network ($30,000.00)
Mike Evans (PI),
2013-2014
Syndicalisme et organization collective des travailleurs atypiques au Canada: Une sociolig des emergences.
Social Sciences, Humanities and Research Council ($67,000.00 – $5000 over the 1st year to L. Aguiar)
Collaborator: Luis Aguiar
2013-2015
Woven Into the Land: Ecology of the Canadian Cultural Mosaic
University of British Columbia Internal Project Development Grant with FCCS Faculty Contribution ($4,500.00)
PI:A. Dulic
2013
Centre of Culture and Technology
Canadian Foundation of Innovation Operating Fund with Faculty of Creative and Critical Studies contribution ($47,000.00)
PI: Aleksandra Dulic
CoI: Stephen Foster
2013
Syilx Language Research-Phase 1 & Phase 2.
Cultural Conservancy Mino-Niibi Fund ($17,500.00)
PI:J. Armstrong
2013-2015
Canada Research Chair in Okanagan Studies and Philosophy
University of British Columbia Okanagan $500,000.00
J. Armstrong
2013-2018
Documenting the Kala Language Project in Film
UBCO Internal Research Grant ($4468/ year)
PI: John Wagner
CoI: Christine Schreyer
2013-2014
Kala vernacular education and ecological knowledge project
National Geographic  Genographic Legacy Fund ($25,132.00 / $25000 USD)
PI: Christine Schreyer
CoI: John Wagner
2013/14
Water Governance and Agriculture in the Columbia River Basin
SSHRC Insight Development Grant ($46,520.00)
PI: John Wagner
2012-2014
FCCS Travel Grant
UBCO ($1,000.00)
PI: Ruthann Lee
2013
Faculty Research Development Grant
UBCO FCCS ($2,000.00)
PI: Virginie Magnat
2013
Travel Grant
UBCO FCCS ($1,500.00)
PI: Virginie Magnat
2013
Internal Research Grant
University of British Columbia, Okanagan ($5,000.00)
PI:Jessica Stites Mor
2013
The Social Life of Water
UBCO Publication Grant  ($1,000.00)
PI: John Wagner
2013
Travel Grant to present Order, Passion, Becoming artwork in O3one Gallery, Belgrade
Faculty of Creative and Critical Studies ($2,000.00)
PI: Aleksandra DULIC
2013
Translating Research in Elder Care (TREC)
CIHR ($200, 000)
CoIlaborator: Colin Reid,
2013-2014
Sustainable management of small water systems
NSERC ($15,890)
Co-I: John Janmaat,
2013
Developing Social and Economic Indicators of Drought
REFBC ($10, 000)
PI: John Janmaat
2013
Measuring the influence of social networks on water priorities during scarcity
SSHRC, CWN ($25, 000)
PI: John Janmaat
2013
Towards Integrated Care Using a Risk Model in Rural and Small Urban Communities: A Pilot Study of Older Adults with Atrial Fibrillation
CIHR ($99, 000)
Co- I: Colin Reid
2013-2014
Psychological Distress in Older Adults with Persistent  Atrial Fibrillation
UBCO-IHLCDP ($10, 000)
CoI: Colin Reid
2013-2014
Stress buffering effects of social support provided via text messaging
UBC Hampton Fund Research Grant ($39, 860)
PI: Susan Holtzman
2013-2015
Text Messageing versus face-to-face forms of social support
Social Sciences and Humanities Research Council – Insight Development Grant ($69, 225)
PI: Susan Holtzman
2013-2015
Medical Cannabis and Arthritis: Barriers and Pathways
UBC Okanagan Institute for Healthy Living and Chronic Disease Prevention ($10, 000)
Co-I: Susan Holtzman
2013-2014
Physical Activity and Physical Activity Service Provision for Older Adults
UBC Okanagan, Faculty of health and Social Development ($9, 900)
Co-I: Susan Holtzman
2013-2014
Beyond Reconciliation: Indigenous Arts & Public Engagement after the TRC
SSHRC ($500, 000)
Co-I: Ashok Mathur
2013-2018
Inquiry-Oriented Professional Development and Systemic Educational Change
UBC – Vancouver Faculty of Education ($3,000)
Co-I: Leyton Schnellert
2013
Developing knowledge about the determinants of health and well-being of immigrants in Kelowna, BC: Expanding participation in research through online administration of questionnaire.
Faculty of Health & Social Development Internal Research Grant ($5,000.00)
PI: Shirley Chau
2013
Mapping the contours of identity in the Trottier Brigade: Metis mentalities and materialities in northwestern North America, 1780-1880.
Social Sciences and Humanities Research Council: Insight Grant ($140,000.00)
Collaborator: Jon Corbett
2012-2014
Optimizing Gastric Banding Surgery Outcomes in Obese Patients
Mitacs-Accelerate Internship Program UBC ($15, 000)
PI: Gareth Jones
2012-2013
8th World Congress on Active Ageing
UBC Travel Award ($2,000.00)
PI: Gareth Jones
2012
Measurement of Muscle Activity in Functional Tasks
UBC Internal Research Fund ($10,000.00)
PI: Gareth Jones
2012
Learning How to Talk to the Land: (Re)claiming Taku River Tlingit Place Names
Social Sciences and Humanities Research Council ($27, 166)
PI: Christine Schreyer, Co-I: Jon Corbett
2012-2014
Northern Rivers Local Food Mapping
Southern Cross University (NC) ($38,000.00)
PI: Jon Corbett
2012-2014
Mapping contributions to an open online journal
SICRI Network Small Island Cultures Research Initiative ($7,500.00)
PI: Jon Corbett
2012-2014
Powering up: Using the Geoweb to support the empowerment of a dispersed First Nation Community
COMART Foundation ($7,000.00)
PI: Jon Corbett
2012-2014
SUCCEED: Supporting and Understanding Canadian Couples' Experiences With Early Dementia
UBCO-FHSD ($10, 000)
Co-I: Colin Reid, Susan Holtzman,
2012
UBCO Research  Mapping Project
UBC Okanagan Office of Research Services (NC) ($30,000.00)
PI: Jon Corbett
2012-2013
LOI: How the Geospatial Web 2.0 is Reshaping Government-Citizen Interactions
Social Sciences and Humanities Research Council: Insight Grant ($20,000.00)
Co-I: Jon Corbett, Collaborator: Mike Evans
2012-2013
LOI: Rural Sustainability: Complexity, Informality and Partnerships in Planning, Policy and Governance
Social Sciences and Humanities Research Council: Insight Grant ($20,000.00)
Collaborator: Jon Corbett
2012-2013
Research Grant
Truth and Reconciliation Commission ($50, 000)
PI: Ashok Mathur,  Co-I: Ayumi Goto
2012
Bipolar disorder in later life: A mixed-methods, experiential sampling study of health and well-being over time
Canadian Institutes of Health Research ($722,402.00)
Co-I: Rachelle Hole
2012-2017
Urban Aboriginal Knowledge Network Research for a better life
Social Sciences and Humanities Research Council of Canada (SSHRC) ($2,500,000.00)
Co-I: Mike Evans
2012-2017
Mapping Accessibility on the Okanagan Campus of UBC
University of British Columbia, Office of the AVP-Equity UBC Equity Enhancement Fund $5,500.00
Co-PIs: Rachelle Hole, Lawrence Berg, Jon Corbett
2012
Older adults and risk-taking discursive practices
Faculty of Health and Social Development ($9,620.00)
Co-I: Rachelle Hole
2012
Aid to Scholarly Journals: ACME: An International E-Journal for Critical Geographies
Social Sciences & Humanities Research Council Connections Grant ($75,340)
PI: Lawrence Berg
2012-2014
The Order of the Passions— Polyphonic culture in Canada
Martha Piper Research Fund, University of British Columbia ($25,000)
PI: Aleksandra Dulic
2012-2013
The Order of the Passions— Polyphonic culture in Canada
Interdisciplinary Collaborative Grant, University of British Columbia ($10,000.00)
PI: Aleksandra Dulic
2012/2013
Re-Mediating Curtis
SSHRCC Reapplication Grant ($2,700.00)
PI: Stephen G S Foster
2012-2013

Centre for Indigenous Media Arts
Aboriginal Strategic Initiative Fund $10,000.00
PI: Stephen G S Foster
2012-2013
Speaking of Identity: The role of speaking and writing amongst speakers of Na'vi
UBC Internal Grants – Faculty Travel Grant ($1,000.00 )
PI: Christine Schreyer
Fall 2012
FCCS Research Development Fund
UBCO ($1,300.00)
PI: Ruthann Lee
2012
SSHRC Institutional Grant
UBCO ($3,000.00)
PI: Ruthann Lee
2012
Faculty Support Fund
UBCO FCCS ($1,700.00)
PI: Virginie Magnat
2012
Social Science and Humanities Research Council Insight Grant Competition, $1,500.00
PI: Jessica Sties Mor
2012
Water Economics, Policy and Governance Network
SSHRC ($1, 611, 698)
Co-I: John Janmaat
2012-2015
Text Messaging and Social Relationships
UBC Okanagan Internal Research Grant ($5, 000 )
PI: Susan Holtzman
2012-2013
Centre of Culture and Technology
Canadian Foundation of Innovation ($124,292.00)
Co-PIs: Stephen G S Foster, Aleksandra Dulic
2012-2014
Understanding the process of building social capital in the economic integration of recent and long-term Chinese immigrants.
Social Sciences and Humanities Research Council (SSHRC) *INSIGHT GRANT ($146,260.00)
PI: Shirley Chau
2012-2015
Developing knowledge about the determinants of health and wellbeing of immigrants in Kelowna, BC.
UBC Okanagan Interdisciplinary Collaborative Research Grant
PI: Shirly Chau
2012