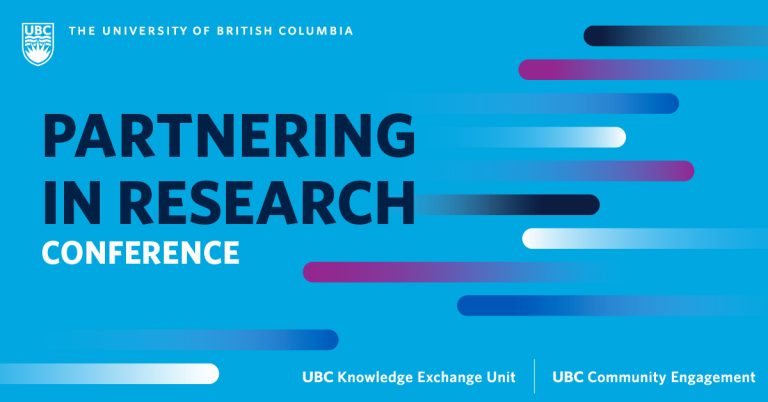 The Institute for Community Engaged Research and The Canadian Institute for Inclusion and Citizenship, with support from the VPRI Office, UBC Okanagan, are delighted to host a lunch and livestream of the Partnering in Research Conference at UBC Vancouver, and organized by the UBC Knowledge Exchange and the UBC Community Engagement Office.
June 15th
9:15 am to 4:30 pm livestream in Arts 368, everyone is welcome to drop by for any or all of the plenary sessions
12:45 pm to 3:00 pm lunch, please register below
Arts 368, UBC Okanagan
Please note, that the livestream in ICER will present the plenary talks and panel discussions as listed below, and not the concurrent sessions listed on the conference agenda. 
The Partnering in Research conference taking place on June 15th in Vancouver will share examples of projects and challenges of community engaged research. Three ICER members are presenting (Drs. Heather Gainforth, Onyx Sloan Morgan and Paul van Donkelaar). We will have a  livestream available in ICER throughout the day. Please come and join us at any time.
During the day we will be providing 'hotelling'. So, if you have work do, please do not feel obliged to watch the entire event, there will be workstations available in the Institutes so that you can dip in and out of the talks that you find most interesting.
We hope that you can join us for this in-person/virtual lunch event in ICER (Arts 368) on June 15th. Lunch is limited to 20 participants, so if you are interested in joining us, please register here by June 8.
Schedule of Livestreamed Talks:
9:15 — 9:40 am: Welcome and land acknowledgement + opening remarks from Elder Roberta Price, and Dr. Gage Averill (Professor, Provost and Vice-President, Academic, UBC Vancouver)
9:40 — 10:25 am:  Keynote talk with Dr. Heather Gainforth (ICORD Principal Investigator and Associate Professor, School of Health and Exercise Sciences, Faculty of Health and Social Development, UBC Okanagan). Talk title: Meaningfully Engaging in Research: Advancing the Science and Practice of Research Partnerships.
11:40 — 12:25 pm: Keynote talk with Dr. Angela Kaida (Simon Fraser University Distinguished Professor and Scientific Director, CIHR Institute for Gender and Health), Azra Bhanji, Simon Fraser University and Juno Roche, Writer and Campaigner. "HIV Made Me Fabulous": A Knowledge Mobilization Partnership using Film to Address Stigma and Advance Gender Equity in the HIV Response.
1:30 — 2:00 pm: Keynote talk with Dr. Byron White (University of North Carolina, Charlotte). Community Assets, Reciprocity, and Other ideas We Struggle to Believe.
2:00 – 2:50 pm: Partnerships Panel – Lessons Learned in Community University Engagement. Featuring two CUES projects  with moderator: Dr. Andrea Bundon (Assistant Professor, UBC School of Kinesiology) and panel participants: Theresa Morris (Binche Whut'en First Nation) in partnership with Onyx Sloan Morgan (UBC Faculty of Irving K. Barber, Arts and Social Science), and Geoff Sing (BC Brain Injury Association) in partnership with Julia Schmidt (UBC Faculty of Medicine) and Jasleen Grewal (UBC PhD Student).
4:00 — 4:30 pm: Closing reflections with Adina Spivak (Manager, Community, The Sarah McLachlan Foundation), Lerato Chondoma (Associate Director, UBC Indigenous Research Support Initiative) and Dr. Paul van Donkelaar (Associate VP Research, Professor, School of Health and Exercise Sciences, Faculty of Health and Social Development, UBC Okanagan)
Please contact icer.ok@ubc.ca with any questions about the event or directions.