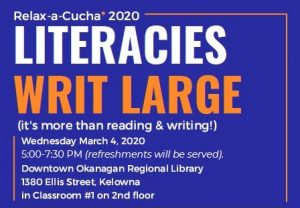 Relax-a-cucha 2020: Literacies Writ Large (It's more than ready & writing!)
Join us for an informative and engaging evening that explores aspects of literacies not often thought about.
The speakers have been asked to present 12 visual slides that highlight an aspect of literacy other than reading and writing. Each speaker will have 7 minutes to speak to their slides as they introduce the audience to new ways of thinking about literacies that help us navigate the world.
This is a free event, however registration is required and will be capped at 100 people. There will be opportunities for socializing and refreshments.
Presentations: 
The Art of Visiting
Vanessa Mitchell, Aboriginal Lead & Program Manager of Journey to Aboriginal Cultural Safety Program, Aboriginal Health, Interior Health
Developing Digital Literacy in 2020: Kinetic Learners & the Modern Public Library
Chris Stephenson, Kelowna Head Librarian, Okanagan Regional Library
A Probably Not Boring Introduction to Answering Research Questions with Math
Zakary Draper, MA, PhD student Psychology at UBCO
Over 100 Genders?! Queer & Trans* Literacy
Jey Benoit, Harm Reduction Educator, Living Positive Resource Centre

 How Emojis Make Us Feel
Dr. Christine Schreyer, UBCO
Designing for Accessibility and Inclusion: Presenting for Everyone
Meghan Currie, Inclusive Technology Lab Coordinator at UBCO
Space Matters! Inequality and Spaces of/in the City
Dr. Shelley Cook, Health System Impact Fellow at UBCO
Engaging in Mental Health Literacies
Dennis Jasper, UBCO School of Nursing
Please register for this free event @
https://relaxacucha2020_literacies_writ_large.eventbrite.ca