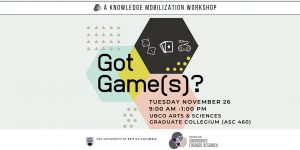 The next workshop in our Knowledge Mobilization series is: Got Game(s)?
Want to learn how to use games to share your research? Need a fun way to engage new audiences or explore community topics?
Tuesday, Nov. 26, 2019
Arts and Science 460
This is an introduction to thinking about how to use games as a knowledge mobilization tool. We are delighted to have four facilitators with various experiences with game theory and development, in both digital games and board games.
FACILITATORS:
Dr. Bowen Hui, Computer Sciences, UBC Okanagan
Dr. Christine Schreyer, Community, Culture and Global Studies, UBC Okanagan
Mr. Jamie Stuart, Okanagan Regional Library – Kelowna
Dr. Miles Thorogood, Creative Studies, UBC Okanagan
SCHEDULE:
9:00 to 9:20 Welcome and ice-breaker
9:20 to 9:35: Dr. Miles Thorogood, Game Theory & Locative Media (digital media applied to real places)
9:35 to 9:50: Dr. Christine Schreyer, Language Learning and Board Games
9:50 to 10:05: Dr. Bowen Hui, Game Structure and Design
10:05 to 10:20: Mr. Jamie Stuart, Narrative and Fun in (Board) Game Design
10:20 to 10:30: Break
After the break, participants will be divided into 4 groups. Each group will have the chance to attend a workshop with each facilitator and have the chance to brainstorm and learn about common challenges of game design. Feel free to bring your own ideas.
Facilitated Workshops:
* How to make locative media games
* Considering space and sequential design in different forms of games
* Role of narrative in game design
* Gamificaiton of research
10:30: to 11:00: Rotation 1
11:00 to 11:30: Rotation 2
11:30 to 12:00 Rotation 3
12:00 to 12:30 Rotation 4
12:30 to 1:00 Lunch provided (Please email icer.ok@ubc.ca with any dietary needs).
This event is free of charge.
The workshop has space for 40 participants with 15 spots reserved for graduate students, 10 spots for community members, and 15 spots for UBC Okanagan faculty and staff.
Workshop participants will also receive a list of resources.
Questions: Please email icer.ok@ubc.ca
Registration is free.