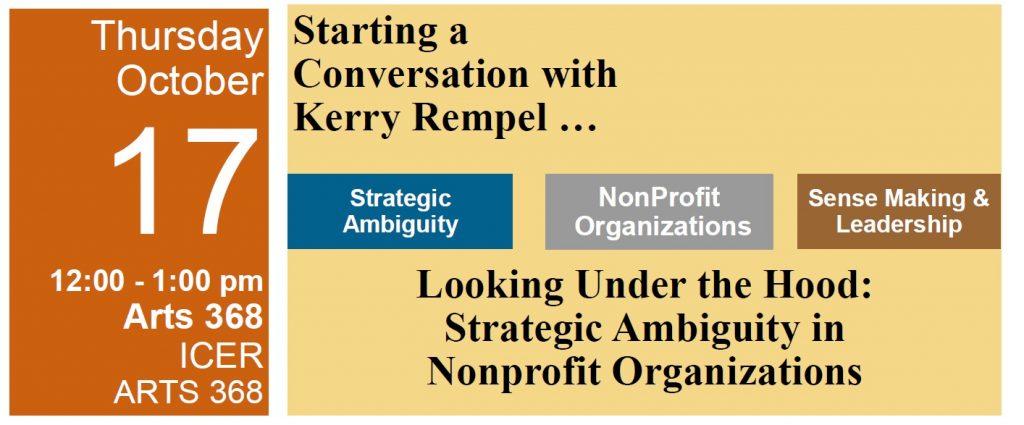 Looking Under the Hood: Strategic Ambiguity in Nonprofit Organizations
Nonprofit organizations are pervasive forces for social improvement in Canada and beyond. These organizations are deliberate and focused on the change they want to see in the world. They signal their intent through strategy.
Change is messy, stakeholders are demanding, and the operating environments of these organizations are uncertain. To compensate for this, organizations have adapted by creating strategic plans and objectives that are ambiguous. Through the use of multiple case studies of different nonprofits, I will explore the extent to which their nonprofit boards engage in sense-making activities that serve not only to create strategy, but also to clarify the ambiguity of those strategies for the staff challenged to implement them.
Through this research I hope to develop a model that can be used by nonprofit boards to look beyond the creation of the strategy… to lift the hood and consider the engine that drives the organization forward.
Bio:
Kerry Rempel is a PhD Student at UBC-Okanagan focused on NonProfit Boards and how they create strategy. She is a Co-Lead for the joint UBC-O/Okanagan College research team focused on homelessness research in the Okanagan and has co-published several case studies focused on social enterprise. In her spare time, she is the Department Chair for the Faculty of Business at Okanagan College and is one of 3 faculty leads for the Scotiabank Centre for NonProfit Excellence.
Kerry is active in the local Nonprofit sector locally, and has served on several boards, funding panels, and advisory groups. She also works directly with the NonProfit sector in the areas of strategy and operations where she has been supporting groups for over 15 years.
Starting a Conversation
This brown-bag lunch series hosts informal conversations with local and visiting scholars. Everyone is welcome! Email: icer.ok@ubc.ca with questions or suggestions for future speakers.